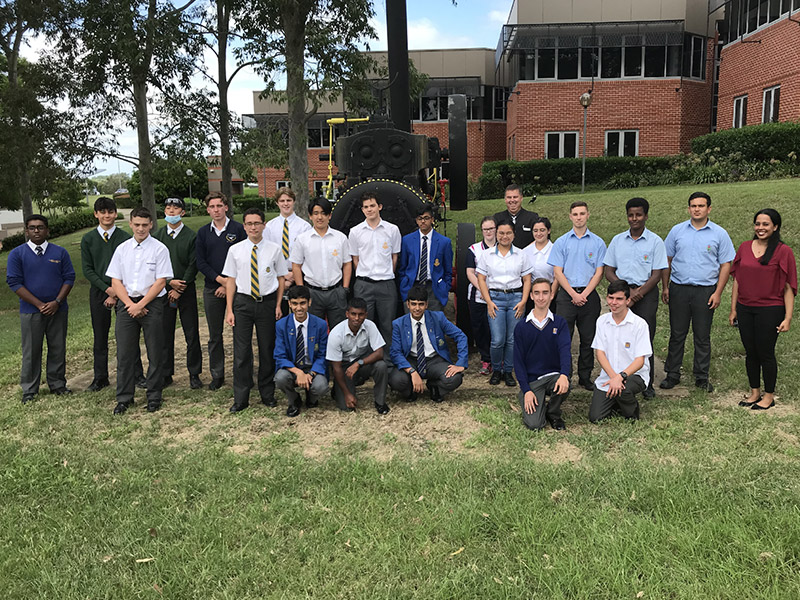 Twenty-one Preliminary HSC Engineering Studies students from ten CEDP secondary schools had a unique opportunity to expand their real world knowledge of their future career at a recent full day workshop at Western Sydney University.
The students are part of Catholic Education Diocese of Parramatta's School of Now, an initiative that offers secondary students the chance to study additional subjects through a blend of online and face-to-face learning.
Western Sydney University Associate Professor Olivia Miraz and her team of PhD candidates developed a specialised workshop for the students that delivered a deep learning experience through combining theory with working demonstrations of manufacturing processes and testing procedures.
The students got to see academics utilising a robotics lab and workshop technicians preparing steel blocks for industrial testing, helping to broaden their understanding of the field of engineering in ways that they had not experienced before.
From the setup of a metal sample for testing of the strength of steel to the instantaneous graphing of results, the students witnessed the testing process first hand from start to finish.
Another test looking at the strength of concrete led to lots of questions and discussions about why some samples failed gently and others exploded under load, challenging or reaffirming each student's existing knowledge.
Steven Bauer, Teacher Educator at the School of Now, who accompanied the group on the day, saw lots of 'aha' moments as the subject matter came alive for the students.
"Explanations of the 'why' and 'how' of materials testing gave the students a real sense of the importance of the engineering profession in our world," Steven said.
"The influence of these practical learning experiences will be deeply embedded in these students' long-term memory."
Steven said it was a privilege to have the opportunity to access globally recognised engineering facilities like those at Western Sydney University.
"This workshop could not have been possible without the generosity of Western Sydney University and I would like to thank Associate Professor Mirza and her team of lecturers for the well planned, practised and professionally delivered learning experience," Steven said.
Students attended the workshop from these CEDP schools:
Catherine McAuley Westmead, Delany College Granville, Gilroy Catholic College Castle Hill, Patrician Brothers' College Blacktown, Penola Catholic College Emu Plains, Santa Sophia Catholic College, St Columba's Catholic College Springwood, St Patrick's Marist College Dundas, Xavier Catholic College Llandilo and Nagle College Blacktown.
---
Learn more about the School of Now
View and Download all photos from this event