The Trefoni Trophy is a staff versus Year 12 student competition that starts in Term 3 and has been going on for many years at the College.
The TREFONI CUP is etched in our schools history, a tradition named after Mr Glenn Trefoni, the competition consists of numerous sporting activities played every Friday lunchtime. It is a fierce and competitive battle between the 2 groups and is a highlight of the year for Year 12 students. It is a Xavier initiative that promotes a great community spirit and highlights the great relationship between students and teacher here at the College.
---
2022 Scoreboard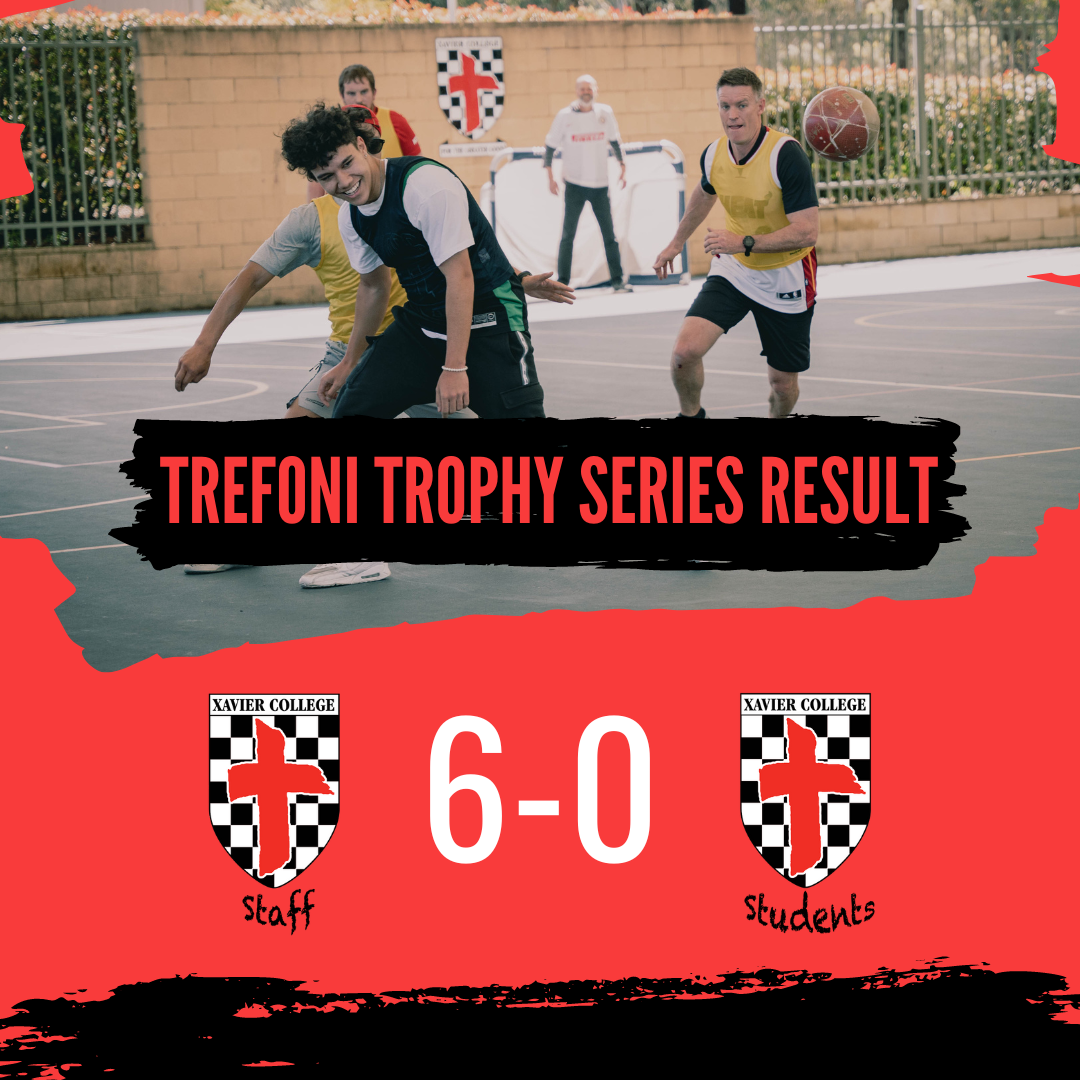 ---
Round 1
In the first round of the Trefoni Cup the Teacher and Students took on a rowing challenge. The Atmosphere was electric as they battled it out.
Teachers:

Students:

Janeen McCrorie- 276m
Kristian Jackson- 304m
Jen McDonald- 256m
Michael Cappadona- 337m
Mikayla Ballhause- 292m
Curtleigh Albertyn- 363m

Teachers Total- 1828m

Aaliyah McKenzie- 279m
Kolo Takataka- 316m
Rylee Schlofield- 244m
Aahil Kasimkunti- 280m
MJ Adams- 265m
Ethan Rowles- 298m

Students Total- 1682m
RESULT | Teachers win
---
Round 2
A Competitive and close game of Netball. It came down to chance, with opportunities for the students to level up and take the win but the result didn't go their way. In the post Match interview Mr Whiley credited the Teachers win to "Unbelievable defence from Mr Varga".
RESULT | Teachers win
---
Round 3
Three edge of your seat games of chess. The students off to a solid start with a quick win. Mr King ( aka the Chess-master) was back to his Trefoni Cup Chess Best and retained his Chess-master title over Oliver Chen in a close game. Mr Moore finally taking it out for the teachers right on the bell.
Game 1- Mr Forrester vs Kriday Sharma- Win to the students in five moves
Game 3- Mr Moore vs Matthew Kervin- again a very close match with Mr Moore winning as the bell went.
Overall staff won 2-1 in chess.
RESULT | Teachers win
---
Round 4
RESULT | Teachers win
---
Round 5
The Rain cancelled the scheduled fast and furious futsal Round but gave us an Unbelievable Uno Utopia.
Best of 3 games, 3 tables of students vs teachers
Table 2
Mr Buhagiar and Mr Varga
Won 2-0
Table 3
Mrs Molyneaux and Ms Moss
Won 2-1
RESULT | Teachers win
View our Round 5 Gallery
---
Round 6
RESULT | Teachers win
---
Round 7
The students chose Futsal as a consolation round versus the Staff. The game ended in a 3-all draw.
RESULT | Draw
---
Final Result
The 2022 Trefoni Cup was won by the Teachers.
Many thanks to everyone who participated and turned out to encourage your team. This years rounds were fun and a great way to bring the Year 12 Cohort and faculty together.