Dates and Return to School Plan
As you would understand the information regarding Covid restrictions and requirements changes regularly and often does not include specific details. I believe that it is important to keep you informed as new information is provided. Today the NSW Government has announced significant changes to the education.

I will continue to provide a Facebook live update each Sunday night at 7.00pm. You can join the conversation via the Parent Council Facebook page.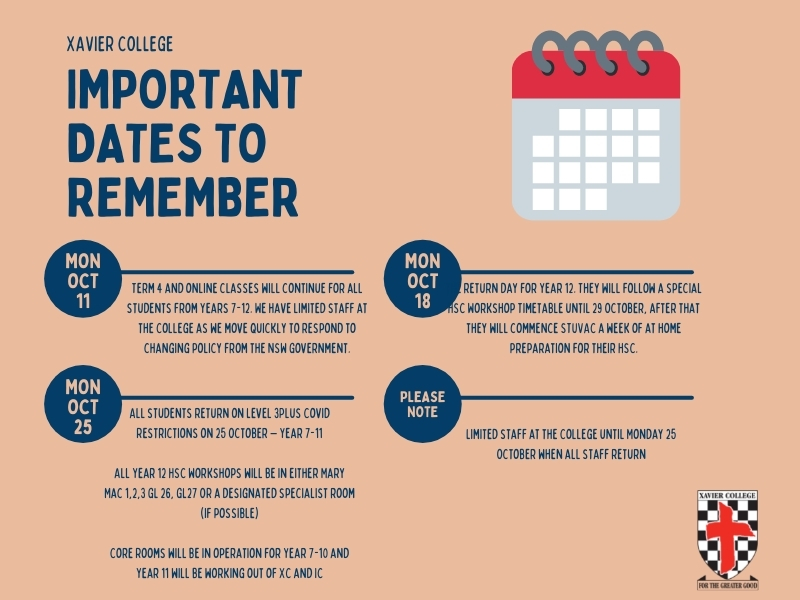 Dates to remember:
● Monday 11 October Term 4 and online classes will continue for all students from Years 7-12. We have limited staff at the College as we move quickly to respond to changing policy from the NSW Government.
● Monday 18 October is the return day for Year 12. They will follow a special HSC Workshop Timetable until 29 October, after that they will commence STUVAC a week of at home preparation for their HSC.
● Limited staff at the College until Monday 25 October when all staff return.
● All students return on Level 3Plus Covid Restrictions on 25 October – Year 7-11
● Monday 25 October – All Year 12 HSC Workshops will be in either Mary Mac 1,2,3 GL 26, GL27 OR a designated specialist room (if possible)
● Monday 25 October – Core Rooms will be in operation for Year 7-10 and Year 11 will be working out of XC and IC.


HSC and Return to School
The Premier has announced that all Year 7-10 students will return to Face to face teaching on 25 October, however there will be restrictions at school. The restrictions presently require staff and students to wear masks at all times, year groups to be kept separate both inside and outside, strict social distancing and spacing to be maintained at all times.

The HSC commences on 9 November and the Government requirements of social distancing and spacing present multiple challenges. The HSC examinations are going to require more rooms, supervisors and strict protocols. Students and staff will be required to wear masks at all times and time onsite will be limited for students throughout the examination period. We will continue planning for Term 4 over the coming weeks and will keep you informed throughout this process.


What we know at present: (7 October 2021)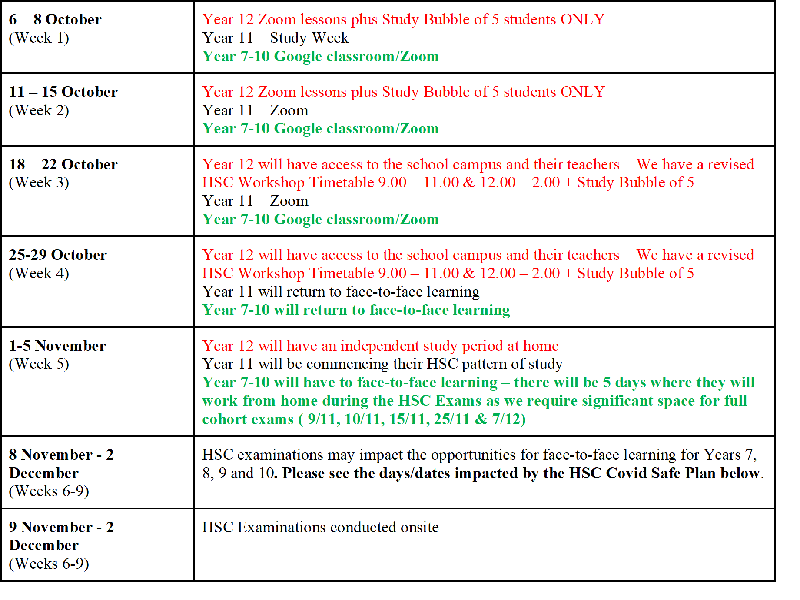 Year 12 Term 4 Events
We understand the anxiety that Covid continues to cause for our Year 12 students and that a significant concern is the end of school celebrations. Our aim is provide both a Graduation and a Formal for the 2021 graduating class. We have the following dates – Graduation Tuesday December 7th 9.30-12.30 and the Formal Friday December 10th at Rosehill.
Xavier Virtual Learning (XVL)
Due to the limited rooms for a Covid Safe HSC Exam we will need to limit student numbers at the College on the following days. Students in Year 7-10 will be working on their Assessments Tasks on these days and Year 11 will attend the College.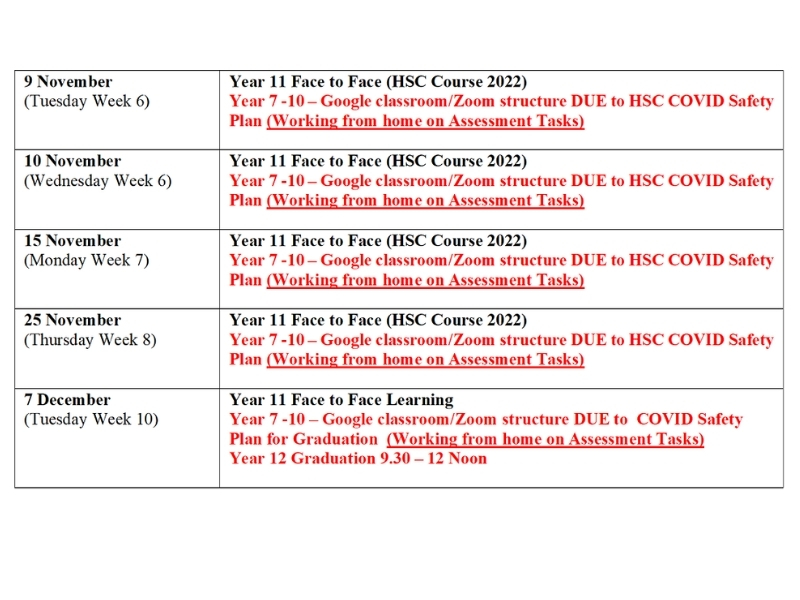 Vaccinations
NSW Health has announced that all people over the age of 12 are eligible for vaccination. You no longer need to live or work in an LGA of concern to access appointments. For further information visit NSW Health Website - Covid Vaccine Health Eligibility Checker



Once again, thank you for your patience, understanding and support during this challenging times and I know we will all emerge from this with a real sense of resilience.
Stay Safe
Michael Pate